Login
Log in if you have an account
Dont have an account? Register
The Navy Suit: Business or Pleasure?
24 Jan 2020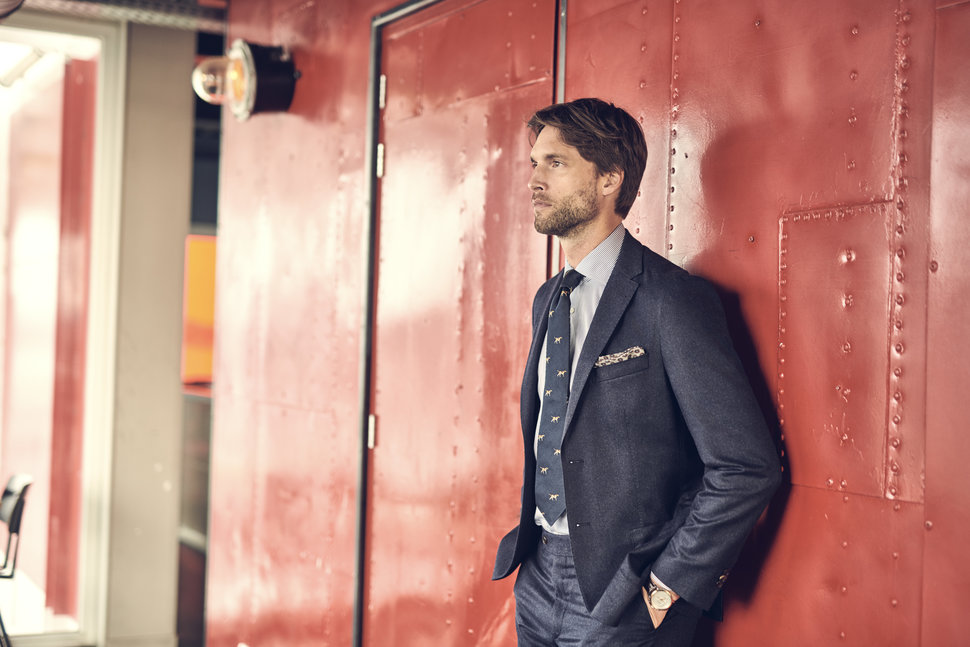 "We're probably not to the first place you've read about the versatility of the navy suit."




We're probably not to the first place you've read about the versatility of the navy suit. In tailorwear circles, it's a topic that's been discussed ad nauseam since the modern suit's inception. However, while the days where every man had to walk around suited and booted already seem to have a little archaic feel to them, the suit as we know it has only been around for little under a century. While that might seem like a long time, for many menswear traditions, bar bits of the more contemporary rise of work- and streetwear, it really isn't all that long ago.

We touched on the history and development of (semi-)formalwear in our black tie long read. The history of the modern suit is no different. As we find with many of these developments, it's brought about by the blurring of class distinction through dress, most of which took place during the industrial revolution. While there's a multitude of reasons for what is essentially the simplification of men's tailoring, a very straightforward one is the need for comfort. In that regard, the modern suit—or lounge suit, as it's often called—was primarily worn by the working class. In the early 20th century, the long, dark frock coats were considered impractical for the working man, both in style and price; the tails could only get in the way and the smaller amount of required fabric for a lounge suit meant they were cheaper to produce. It didn't take long for the dark lounge suit to become a professional staple, hence why it's often referred to as businesswear in the states. While this only covers one aspect of the modern suit's evolution, we find that comfort is still a crucial driving factor in shifting tailoring trends.
"The one thing that always works: navy blue"


As the lounge suit's popularity grew, so did the styles it came in. Nowadays, many tailoring houses still cling to these local traditions. Commonly, people differentiate between British and Italian tailoring, the former being more classic and the latter more relaxed. However, even within Italy and Britain, many tailors have a different take on what makes a great suit. Additionally, the second half of the previous century saw the rise of new tailoring hubs who put their own spin on the classic rig. For example, the American sack suit, pioneered by Brooks Bros.; Parisian tailoring with their fish-mouth lapels; or Japanese tailoring, which is often seen as heavily influenced by the American Ivy-style. 
Honestly, in the small world we live now, geography has little to do with who makes a suit in what way. Many tailors can make a suit in a wide range of styles, and location is no guarantee of a good or bad suit. You'll simply need to find what style you like. But the one thing that always works: navy blue.


When suits were still de rigeur in professional dresscodes, they were most commonly worn in either navy or charcoal. Since the turn of the century, these understated colours gave way to the more expressive Neapolitan blue, or other shades of medium blue. While there's nothing inherently nothing wrong with the lighter shades of blue, they can detract from the bigger picture of your outfit. While many see the navy suit as old-fashioned, the medium blues have become so common that navy almost becomes a stand-out colour, as you can see in the above picture of our parliament, where navy swims alone in a sea of medium blue. 
While medium blue has become the new uniform of businesswear, the muted tone of navy offers far more versatility. As a suit, it's easier to combine with other colours and it looks good in a wide range of styles and fabrics, from plain worsteds to coarse flannels and linens. It's easy to see why navy has enjoyed such a perpetual popularity.


Because it's such a staple, we always have some navy suits on offer in our ready-to-wear collection. Generally, the navy suit is still considered the suit to have when you only need one. Because of that, we've gone for simplicity by having them in our APOLLO model which comes in both a matte birdseye and a smooth, worsted traveller, both by Vitale Barberis Canonico. But because we believe in venturing off the beaten path, we also offer a more seasonal navy suit. Our Bolo is entirely unconstructed and made in a soft VBC flannel. Because of its construction and style, it can easily be split, giving you a soft pair of navy trousers to wear with chunky knitwear (preferably in something cool like a mottled, medium grey) and navy jacket that can go with just about anything. Some good news: it's currently 30% off. 
Of course, you can always go for one of our made-to-measure suits. All mills offer a range of navy fabrics. Some really stand-out ones are the fresco by Hardy & Minnis, which is a tried and tested durable and airy fabric, or Scabal's Londoner, a super 140 with an immensely luxurious feel. 
While we're still a little while away from our spring/summer collection, we can already tell you that navy will be included in new and exciting ways. Sign up for our newsletter to be the first to know when our new collection drops.