Login
Log in if you have an account
Dont have an account? Register
The Black Tie Issue: Tuxedos and Dinner Jackets
04 Nov 2019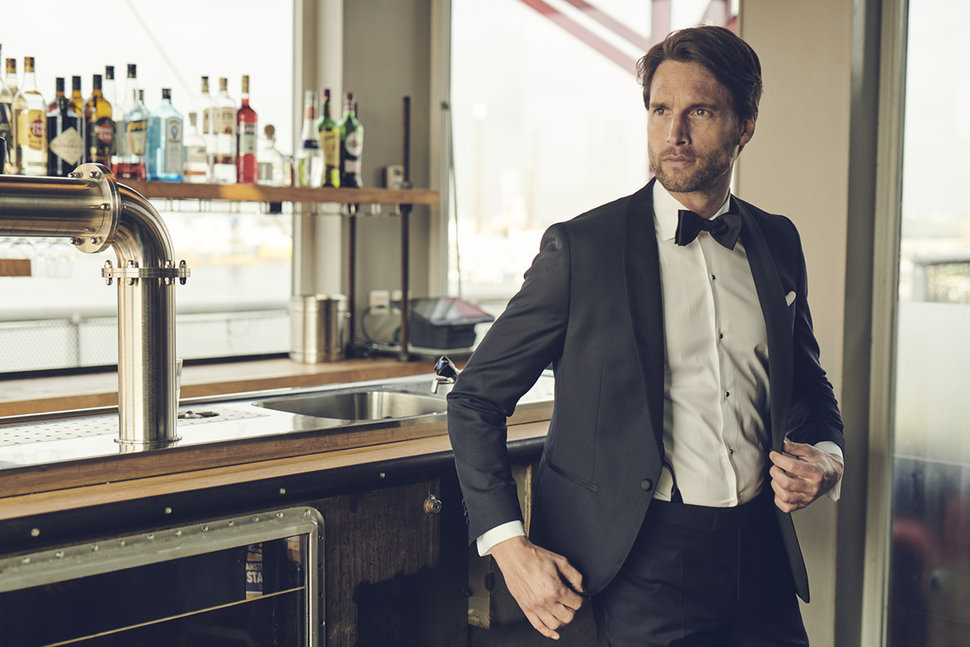 "The key to doing black tie right: making something so iconic truly your own"


With a new James Bond film on the horizon, we find ourselves increasingly excited for the coming holiday season. Our excitement doesn't just come from our love of film, but because there's always one thing that unites every first Bond-poster they tease us with: Bond in black tie. Every iteration of the long-running spy series surprises us with a new take on what is such a traditional garment. Whether it's veering away from the traditional black worsteds or experimenting with daring dinner jackets, black tie leaves plenty of room for personal expression. If you ask us, that's the key to doing black tie right: making something so iconic truly your own.
The tuxedo—or dinner suit, in British English—has its origins in the second half of the 19th century. As comfort and leisure became increasingly important to a man's wardrobe, the tails on dress and frock coats made way for shorter jackets. And so, the suit jacket as we know it today was born. The tuxedo is considered semi-formalwear, meant for nighttime events that don't call for the formality of white tie, but for more than just a suit. There's also the dinner jacket, which is often paired with black tuxedo trousers. The dinner jacket stems from the smoking jacket, which, as the name suggests, was worn when smoking. The smoking jacket is also the reason why a tuxedo is called a 'smoking' in Dutch. Dinner jackets are traditionally made of luxurious fabrics, like velvet or silk. 


"Whichever path you go down, it's all tied together with the right accessories"


As semi-formalwear, black tie is steeped in tradition, but we're not really sticklers for the rules. A tuxedo is traditionally made of black worsted wool, with matching, satin facings on the lapels, jetted pockets, and trouser seam. The purpose of this is to hide as many seams as possible. Hence, tuxedos traditionally came with on-seam pockets and no cuffs. Nowadays, tuxedos come in a wide range of colours, fabrics and designs. A dinner jacket leaves you with a lot more freedom to express yourself. You can be traditional, yet playful, with bright velvets, or go bold with a colourful check. Whichever path you go down, it's all tied together with the right accessories: patent leather shoes, a tuxedo shirt, and a bow tie—ideally one you've tied yourself.
We believe in a more modern take on this timeless classic. When it comes to the tuxedo, we love the classics, but we're not afraid to divert from the norm. Midnight blue is expressive without being too garish. You can still blend in with the traditionalists, while leaving an elegantly strong impression. When it comes to the dinner jacket, we believe that nothing captures colour quite as well as velvet. It comes in such rich hues and its lovely soft texture is simply irresistible; you'll be at everyone's centre of attention.
 If anything should be clear by now, it's that black tie is more than just a suit. And so, to make life easier, we've bundled it into one convenient package-deal. Our Black Tie Deal is available in both ready-to-wear and for those who want to make it personal, made-to-measure.