Inloggen
Als u een account bij ons heeft, meld u dan aan.
Nog geen account? Registreren
Looking at the Lower Half: Trouser Styling
16 Oct 2020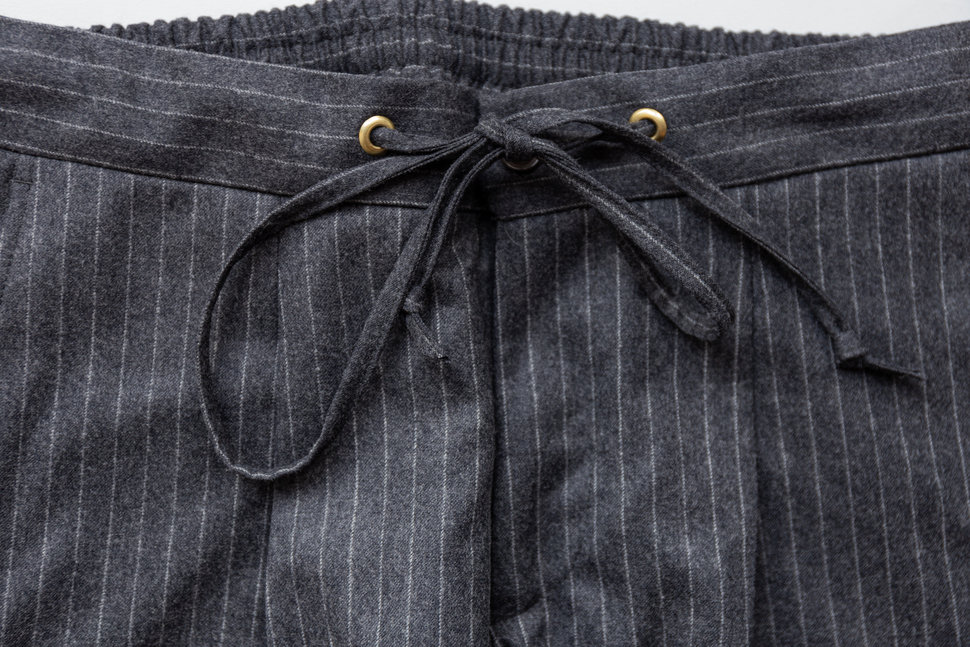 In this article, we'll be looking at some ways you can style your trousers. Make no mistake, trousers (and the various bells and whistles on them) are becoming more important now that jackets are less common. In the past, we've looked at the specifics of pleated trousers and trousers in a smart casual context. Now, we'd like to take you through a broader overview.

Suiting
Naturally, we're seeing more casual suiting next to the standard business stuff, so we'll try and cover both bases. For business suiting, as with much of its styling, it's relatively straightforward. We prefer a sleeker look, like you see on our DAPPER. Side tabs, either a buckle or buttons, remove the horizontal line of the belt, creating a more continuous and thus slimming and smarter look. Should you like the look of them, you can get away with a single pleat for business suiting. A turn-up, or cuff, is personal preference. On plain fabrics, it adds weight and visual interest to the hem, rather than ending quite abruptly. When you do opt for turn-ups, err on the larger side (4-5cm). 
For casual suiting, there's more leeway. Seasonal fabrics, like cotton, linen or flannel, offer much in the way of play-space. Double pleats with belt loops and a turn-up give a distinctly easy going and retro feel. However, there's something to be said for keeping it simple. Flat front, plain hem and belt loops means you'll be more inclined to wear the trousers separately. The extra mileage is worth considering the restraint. 

Dressed Trousers
When we talk about dressed trousers, we usually refer to trousers that have a crease and are made of typically smarter fabrics, like wool. Such trousers are great to pair with formal jacketing, like a navy blazer, but they can also be dressed down (or dress up, from the jackets point of view) with casual jacketing. Style-wise, we keep it simple: flat front, belt loops and an optional turn-up.  We go a little more adventurous on our dressed seasonals: side tabs, single pleat, higher rise and turn-ups. Don't be afraid for pairings outside of the expected shirt and jacket. Wear them with a roll neck jumper, or perhaps just a t-shirt. They're criminally underrated, as they add so much to any modern (office) wardrobe; the right amount of structure, without looking stuffy.

Casual Trousers
We're sticking to the realm of somewhat more tailored trousers. Of course, jeans and chinos are prolific (and we do them very well), but you can create a look that's a lot more put together when you take your trousers up a notch (but without veering into dressed territory). Much as with casual suiting, casual trousers are done best in seasonal fabrics. For summer, linen is the best. It's difficult to pair with a jacket, but as a standalone piece they give a very relaxed look. You can even go a little crazy with them. You can go for double pleats and a wide fit to create something very bold but contemporary. During the colder months, we prefer flannel. To make them look younger, we've added a pair to our collection with an elastic waistband and sportcord (pictured above). A small turn-up, rather than making them look old-fashioned, makes them appear less formal. For year-round use, we recommend cotton. Style-wise, cotton tends to crease and wrinkle (linen rumples, important difference!). Because of this, we like to keep it simple. Flat front, belt loops (or buckles) and an optional turn-up (4-5cm). Ask our personal tailors what's best for you.