Inloggen
Als u een account bij ons heeft, meld u dan aan.
Nog geen account? Registreren
Back From the Dead: Pleated Trousers
26 Aug 2020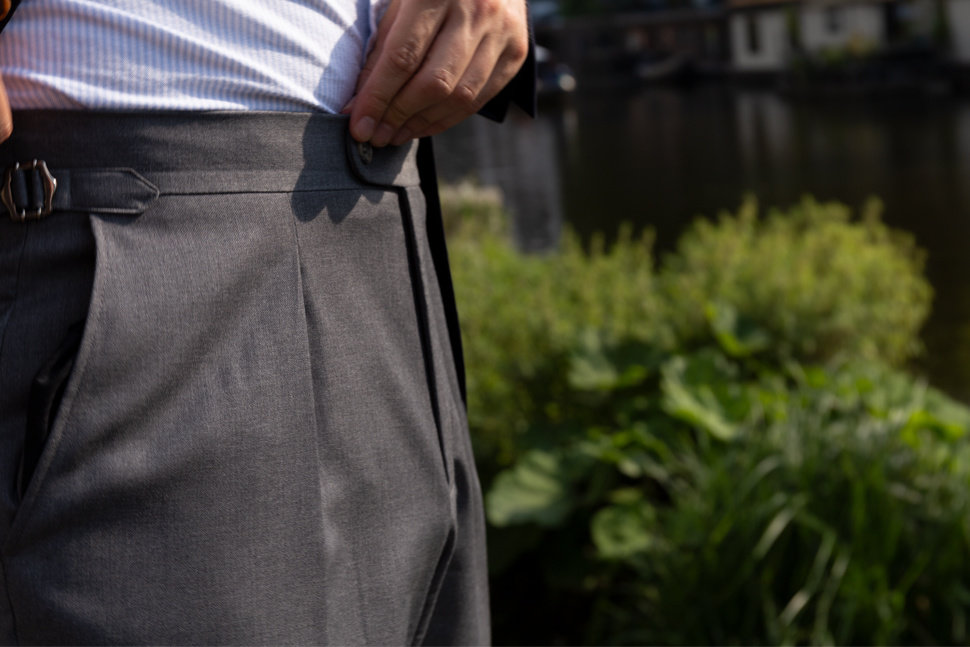 The title is a little tongue in cheek. Nothing really ever dies in fashion. However, it's undeniable that we've been seeing increasingly more pleated trousers in the past few years. So, what are pleats and why this sudden bump in popularity? We'll dive into that in this blog post.

Like so many things in tailoring, pleats come from a demand for comfort. Wool trousers with their limited stretch, especially in heavier fabrics, don't really give way when sitting, moving around or sticking your hands in your pockets. Especially during sporting activities in the olden days, this would be a problem. Pleats offered the solution. What do they do nowadays? If you ask us, they're just there for looks. The lines at the top of the trouser make it more visually interesting. True, the comfort aspect is still there, but this isn't always a good thing. The pleats, particularly a single one, will look really sharp on trousers with a higher rise, but the pleats opening up when sitting can look a little messy. It's also more suited for formal tailoring (mainly wool, preferably on the heavier side). Pleats on casual trousers in, say, cotton, will not lie as flat and look as sharp. Although the rumpled pleats can also be a great casual look.  

Pleats come in a number of distinct flavours. You can get the forward facing (traditionally the British way) or reverse (Italian). Then there's the choice between single or double. Single can look quite smart on suits, as it makes the crease more pronounced. Double tends to be a bit much, so it's better suited for more casual pieces, like a linen suit.

Our collection isn't heavy on the pleating, but we always offer it in our made-to-measure programme. Generally, you'll find one or two pleated trousers in our ready-to-wear collection. This spring/summer, we had the sportcords by PROFUOMO (which are all sold out, sadly). Next fall/winter, we're getting more of those, but this time in an off-white corduroy. Under our own label, we'll be carrying a cream coloured, flannel pair. These come with a single reverse pleat, a higher rise and buttons for braces to keep the pleats looking sharp. We had a similar model last fall/winter (pictured above, which is the very last one), but that fabric lent itself a little more for seperate wear, whereas the cream flannel will combine really well with other tailoring. Keep an eye on our website and newsletter for its arrival.