Inloggen
Als u een account bij ons heeft, meld u dan aan.
Nog geen account? Registreren
Twists and Turns: Navigating Traveller Fabrics
15 Apr 2020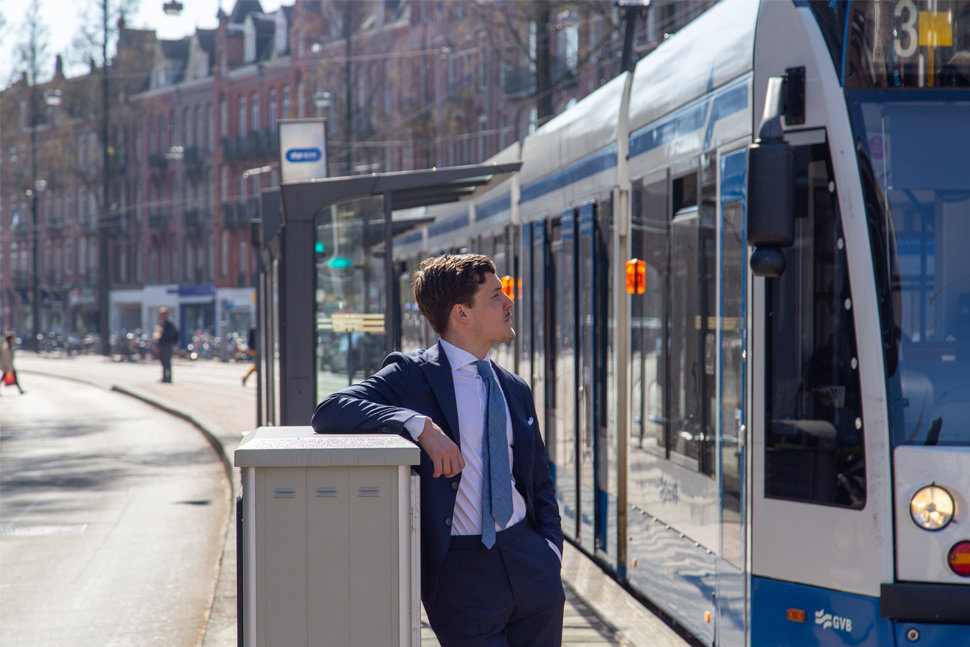 You've had a long day of work: sitting on the train, behind your desk and at the meeting table, maybe even a car ride or two. You take a look at your suit at the end of the day and what do you see? Creases, wrinkles and other signs of a work day that have completely taken the crispness out of your jacket and, especially, trousers. Sometimes it springs back after a day of two on a hanger, but after a couple of particularly hard-wearing days it might not. So how do we avoid this and keep your suit looking crisp?

Take a quick glance at any shop's selection of tailoring and you'll find items labelled 'traveller'. We're no exception. But what does this mean? Often, these garments are made of specific traveller-fabrics, often characterised by terms such as high twist or 2- or 3-ply. For a smooth finish, the yarn of a fabric can be twisted to give the fabric more tensile strength. A high twist simply means that the yarn gets a bit more bounce. The ply number refers to the amount of yarns twisted together. Simply put, these two things refer to a yarn that can take a punch. A stronger yarn means you can weave the fabric more openly without compromising on durability. This way, you get a breathable fabric that still has great drape, wrinkle-resistance and great recovery. 

In our collection, you'll find a number of traveller items. We stick to the basics when it comes to making these durable garments. A white shirt that stays fresh, a versatile navy blazer or a pair of grey trousers. But the real star here is our ROKIN. A new model suit that revolves around comfort and simplicity. We already discussed the navy suit, but this one comes with the added bonus of being made from an amazing traveller wool by Vitale Barberis Canonico. Stuff it in a suitcase and we promise you, it'll still come out looking sharp.