Inloggen
Als u een account bij ons heeft, meld u dan aan.
Nog geen account? Registreren
Bunch of Softies: New Fall/Winter Fabrics
20 Aug 2020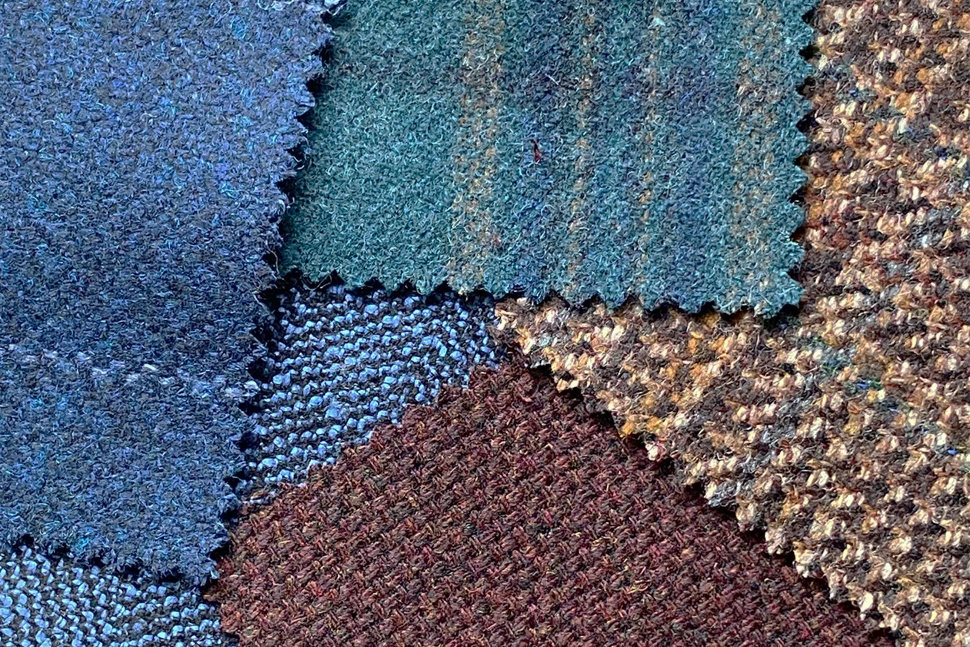 We're still sweating away, finding some relief in the flashes of rain every now and then. Looking out at a cloudy sky over Amsterdam, despite the pressing humidity, gets us really excited for the next fall/winter-collection. The ready-to-wear stuff still needs a little time, but we've already received a number of great fabrics from our friends at the mills.

Carnet
We've been Carnet fans since day one. Their offering has always been extensive, covering all bases with something for just about everyone. Their new fall/winter selection is no different, albeit a little more on the exciting side (as any seasonal collection should be). We've received two great jacketing bunches, the Cambridge and Hollywood, and a new edition of their Narcisco linings. 
The Cambridge is everything you'd expect from a F/W-jacketing book. The fabrics are soft with a subtle nap, offering enough in the way of weight to get a wonderful drape without feeling too heavy or thick. What really sets it apart is colours and patterns. Hopsacks, herringbones, glen checks; all in a diverse colour pallet. In addition to the standard browns, blues and greens you'll also find some muted teals, warm reds and soft creams. 
The Hollywood is one for the daredevils, for those not afraid to be the centre of attention. It's a festive bunch, full of shimmer and sheen. Paisleys, metallics, silks, all in a dazzling selection of gold, silver, burgundy and blue. For those a little less adventurous, there's also plain velvet (but in a special blend). This bunch makes for great cocktail jackets, festive blazers or a (wedding) waistcoat. 

Cerruti
We've been working with Cerruti for a number of years now, and their selection contains some real gems. The iTravel is a sturdy but soft traveller, the Kinair is a lovely wool and kid mohair and the Oxygen is a real knock-out jacket collection. It's this latter one that's received an update, in addition to a new selection of cashmeres.
The Oxygen has been Cerruti's flagship jacket collection. Every season sees new additions added to the already impressive selection. This fall/winter is no different. In comparison to Carnet's Cambridge, Cerruti is a little more relaxed. The weaves are a lot more open, giving the fabrics a much coarser look, while making no concessions in the way of softness. Some of their herringbones have an almost donegal-like speckle to them for just the right amount of casual appeal. 
The cashmeres are, as is to be expected, a little more subdued. The nap isn't as pronounced, they're not nearly as slubby and the pattern-colour combinations are a little more modest. What you do get is an amazingly soft cloth. And it's not just jackets, there's also overcoat fabrics. We're offering them at a special rate, and believe us: you won't find a more luxurious cloth at that price point.

Dormeuil
French mill Dormeuil has been an established classic for many decades. In their suiting range you'll generally find fabrics that are more on the timeless side, but of an excellent quality. This same promise of quality and craftsmanship has been translated into their seasonal book: Woodland. 
Woodland's quality isn't reliant on fancy blends, just the finest worsted wool. The fabrics are a lot smoother than those of Carnet and Cerruti, but with a slightly dry hand because the yarn is just so much finer. This gives them less nap, but because they're made with a hopsack-like weave in a beautiful array of colours and patterns they're still casual enough. The real star of this bunch, though, is the corduroy. Dormeuil made a selection of colours, ranging from classic brown to dazzling petrol. The fine whale means it can be used for trousers, jackets and even entire suits. A great choice for anyone trying to spice up their tailoring wardrobe or for all the grooms getting married this fall/winter.